紐西蘭南島 Day 15: 高空跳傘 Sky diving in Te Anau.
Date: 20090501 Fri.
Route: Te Anau (Sky Diving)- Colac Bay- Invercargill- Curio Bay
Stars: 5/5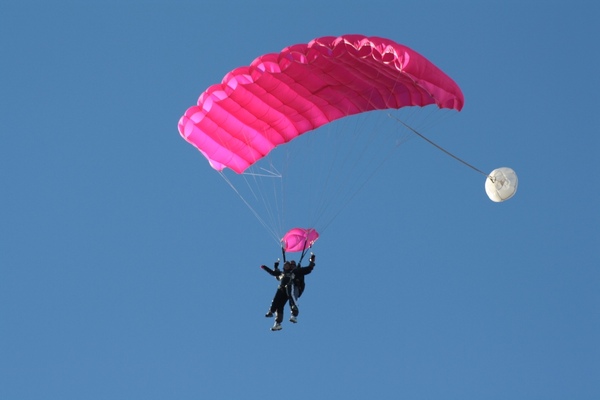 It was the first day of new month.
Everything seemed getting better from today!!!!
Everything!!!!!!!!!!!! I believe.
*** ***
I did it! Sky Diving!
It cost me NZD$440 but totally worthy it!
It was freezy (3 degree) early morning at 5:00AM.
Surprisingly, the sky was soooo clear in the dark.
We could see every star in the sky.
We made a quick decision while eating breakfast-- We ganna do it!
Sorry for calling Jim so early at 7:00am.xyz

All the crews all woke up earlier than before for us to warm up the aircraft.
(It's too cold to warm up the aircraft quickly.)
Thanks for the coach. He made us feel safe.
The coach, who probably is also the boss there, is a man 200 cm tall in older age.
He already did sky diving for 20 years.
18 times jumping in a day for his highest record so far.
"Wow~The job must be easy for you!" I said.
"Well" he paused for a while and said "I respect this job because the ground is hard."
He emphasized the word "respect" while talking.
"No drink, mind clear, take care of customers like you..."
At that moment, I wasn't afraid anymore!
I got strong feeling of trusting the coach.
I knew he would make everything safe completely.
"OK! Let's go!! Take me fly in the sky~~~~~" I think to myself!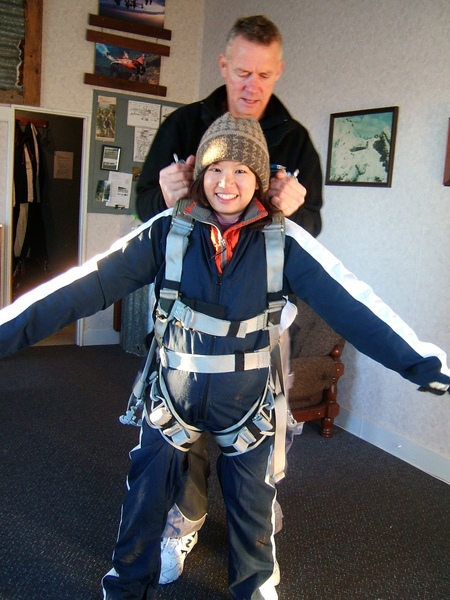 The scenery from the sky was so amazing with all the snow in the peak of the mountains.
And also the whole Lake Te Anau, Fiordland, the sea and the sky.
After a 15 minutes scenery-view in the small plant, we jumped!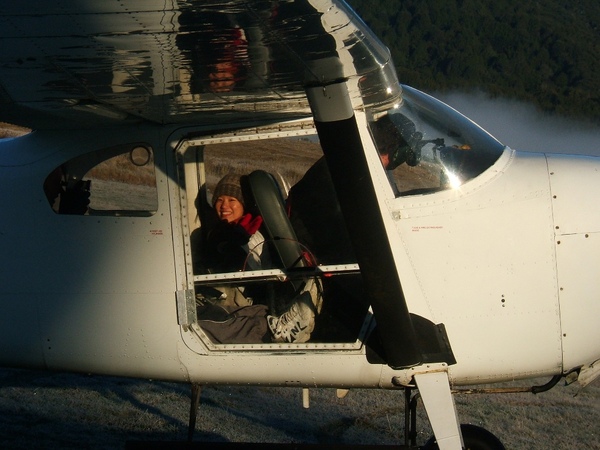 Photo: Only three person in the airplane, the pilot, the coach, and me.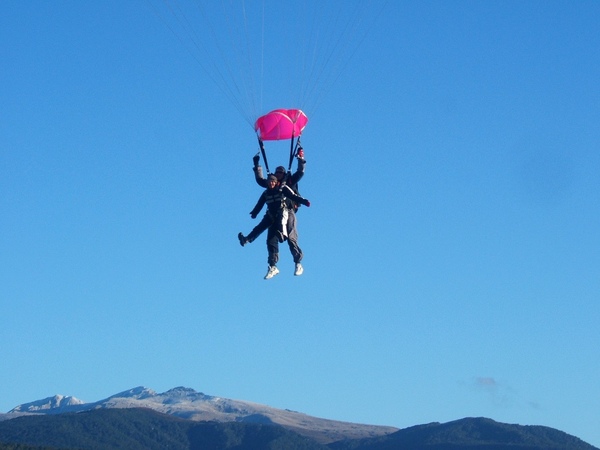 Photo: That's me!!!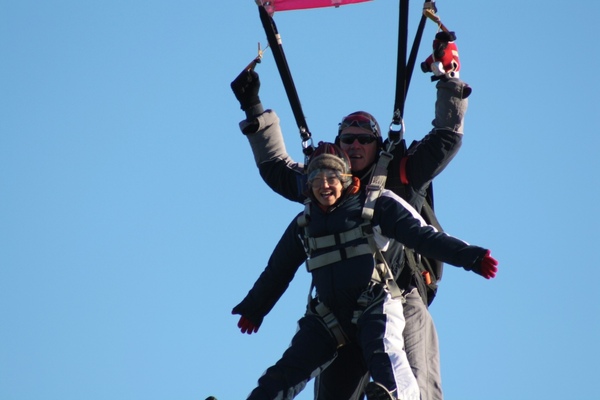 It was empty in my mind at the moment we jumped down.
With a short screaming, I remembered to keep my smile because vedio was on!
I enjoyed the free falling very much.
It was so soon that the parachute was opened.
Then we turned around and made some circles in the air.
I didn't know the speed we were falling but I know to seize on the chance to keep my eye open and appreciated the view.
I could see my friends waving their hands beneath me.
They were outside the small house like a match box in the big farm.
I waved my hands in the air, too.
The 200cm tall coach said to me "You are a brave girl" several times.
I also thanked them for several times.
It was a wonderful experience.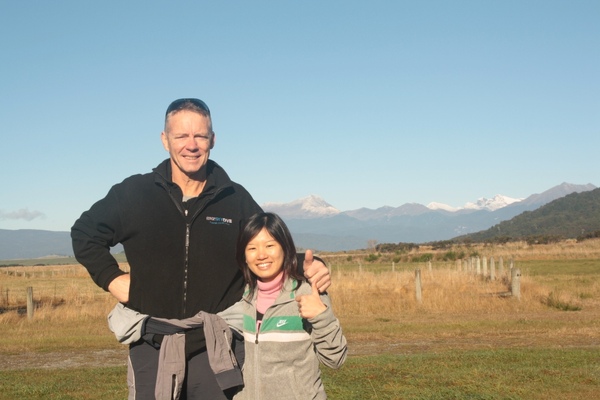 *** ***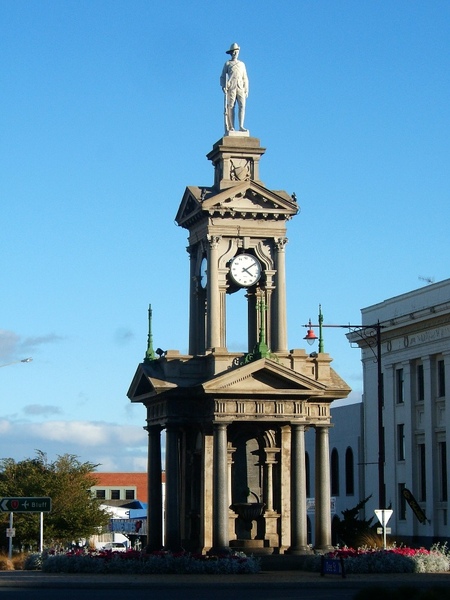 Invercargill, the southest city I have ever been.
(wei-du 46 on earth)
It was cold!!
Even with the nice weather and smiling big sun, it still was cold.
I kept putting on my clothes and taking off them in this big city because xyz
it was cold on the street but warm in every store.
They got heater in every shop.
We spent some time in Starbucks.
I didn't really like this city; it's too big.
I think it's bigger than Christchurch.
We were supposed to arrive at Dunedin tonight but failed.
We stayed at the southest spot of South Island called "Curio Bay"
We couldn't find some comfortable holiday park with hot shower but a simple camp site of national park.
It was windy and cold there.
There was nothing but a empty space.
We decided to stayed at backpacker.
Otherwise, we probably freeze at midnight.