紐西蘭南島 Day 09: 爬冰河 Franz Josef Glacier
Date: 20090425 Sat.
Route: Franz Josef Glacier/ ANZ day
Surprising Stars: 5 (1-5)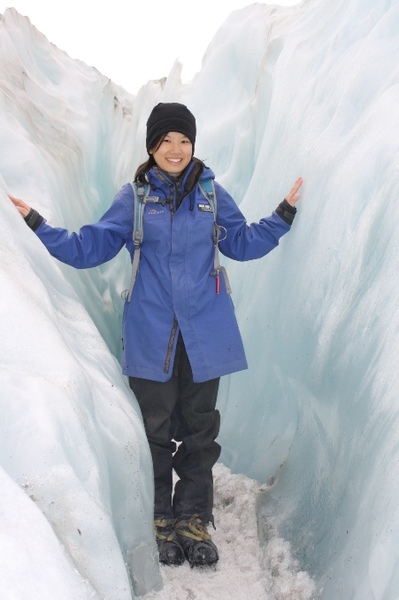 There was only one company operating the climbing activities in Franz Josef Glacier.
So was Fox Glacier.
Since the price is not so unreasonable and it saves tourists' time from choosing,
such monopoly is good.
I believe the government of New Zealand does keep an eye on those monopoly companies.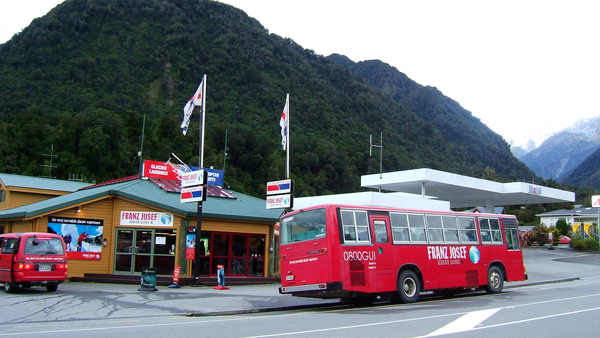 The company provides Gore-Tax water prof coat, pants, boots, thick socks, gloves and beanie that keep from wet and being warm.
The boots are not common boots, but the ones let you walk well on the slippy ice and rocks.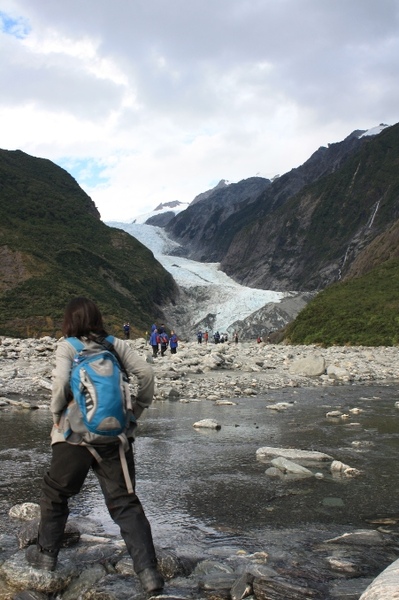 xyzPhoto: It took more than 30 minutes to walk to the glacier.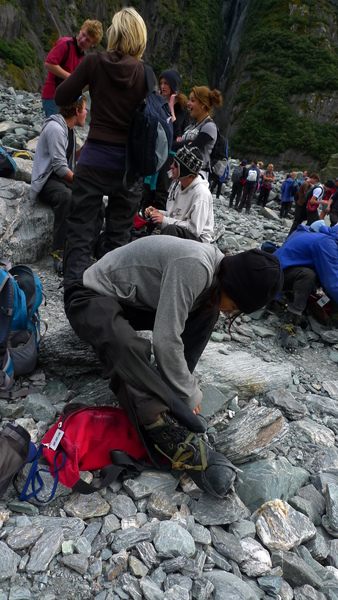 Photo: A pair of special boots is needed.
The glacier dissolve one meter each day!!! That is a terrible data.
The color of the glacier changes often because of the sun light.
Sometimes it is all blue and sometimes white.
The tour guide tried to make some ice ladders with his hammer for us to step up.
The gesture of profession was really handsome.
I believe anyone who makes an ice ladder in front of me successfully, I will quickly fall in love with him. (Haha)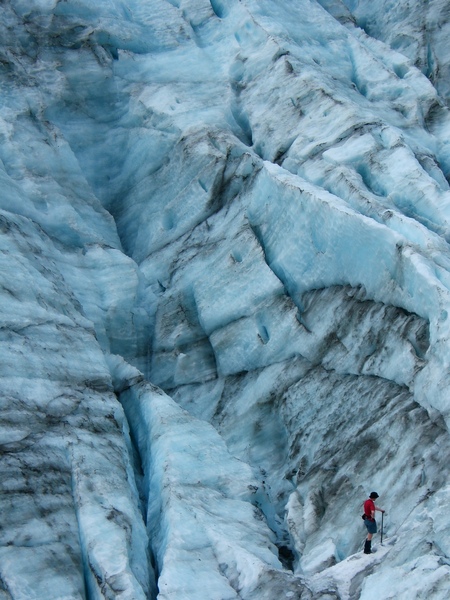 The temperature was not as low as I thought.
However, it was rainy and windy in the afternoon when it became colder.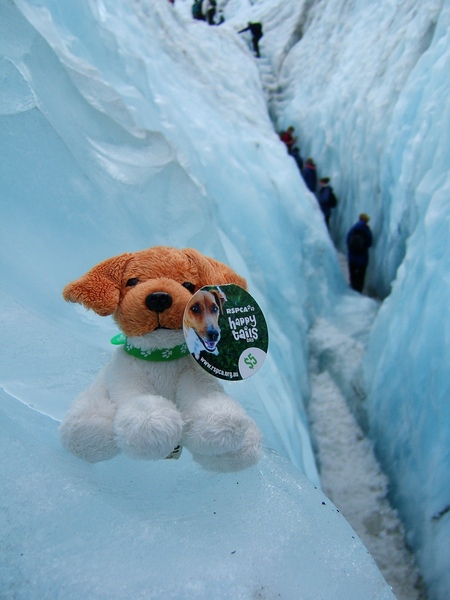 Photo: 小傻也去爬冰河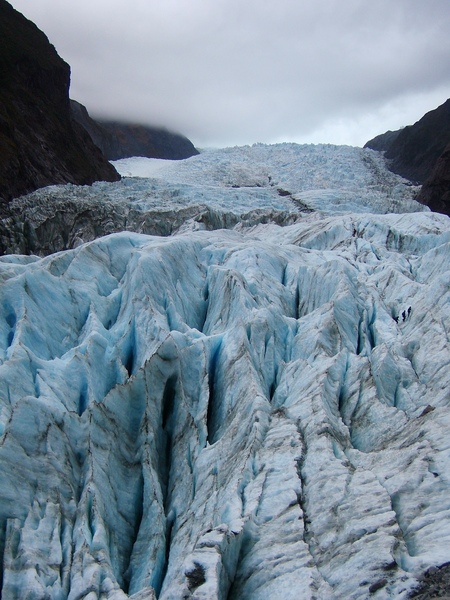 Photo: Can you see people in such huge glacier?
The most interesting part was squeeze into some narrow slippy tunnels one by one.
Because the weather around this glacier is warmer than other glacier, the glacier changes all the time.
It means, the tunnels or the holes are not always located where they are now.
Now you see a tunnel, maybe next hour, it has became a deep cliff.
"Thanks" to the globle warming, they change faster.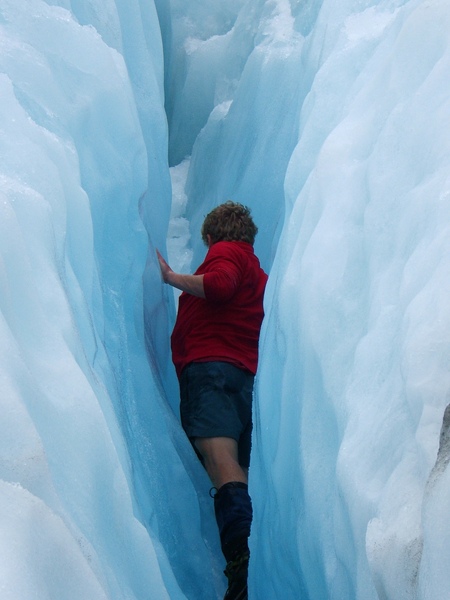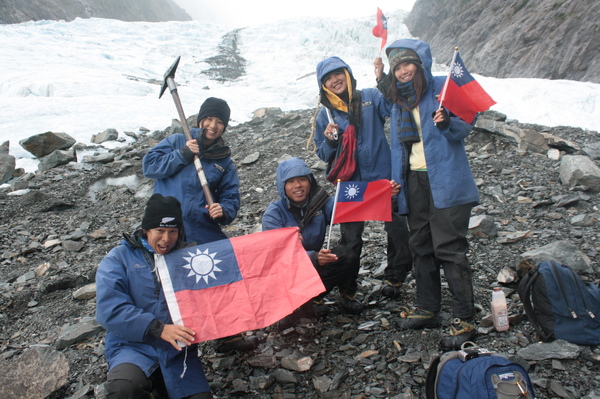 *** ***
An accidence happened in the dark evening while we were about to leave.
We reversed the campervan out of the road and the back tire got stuck.
The campervan just located in the middle of the dark road!
The sky started to rain, we tried to push but in vain.
Now, we started to worry.
I didn't know what other people worried about but
I worried about the damage fee of insurance.
Fortunately, 3 cars pulled up and 4 strangers came up for help.
Finally, the crisis dismissed!
It was also a special memories in this trip.
We can only say "People from New Zealand are sooooo nice and enthusiastic!!"
Since it started to rain and it's more dangerous to drive in the dark night, we decided to stay here one more night.
"Maybe such little accident was arranged to prevent us from terrible damage if we kept driving at night." I thought in my mind.
"Thank god!"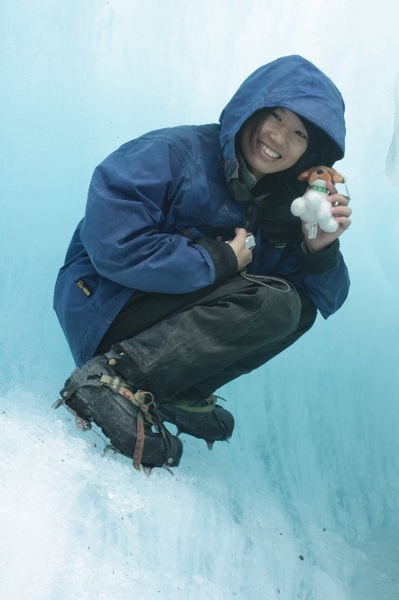 xyz資訊工坊