第301天- 交換食宿 之 保母新生活
Date: 20090518 Mon.xyz資訊工坊

Location: Hamilton, Victoria
Event: I am a baby sitter now.
When I woke up this morning, I felt a little sad for my leaving today.
I would never see the dog Kabbah and I would never need to prepare the horse food anymore.
There was another new life style waiting for me in Hamilton.
Lori gave me a hug and went out for work.
Libby was the one who drove me to the station.
"That's it! Have a great time in Hamilton" she said.
And she turned around and went away.xyz資訊工坊

I even didn't know if they were like me with some sadness in heart.
Maybe they have used to all the leaving things of helper.
Maybe they just pretended not to care.
Hamilton is 2.5 hours south west away from Ballarat which is 1.5hour west of Melbourne.
Hamilton is the place near famous Mt. Grampians.
When I arrived at 12:30, the new host Katrin has already waited there.
She is a tall lady with a hat on her head.
She has different accent from Lori, my ex-host.
We went to kindergarten first and pick up her 5-year-old daughter, Arabella.
She is a very very very cute little girl and not afraid of me at all.
She likes to talk with me, shows me around and even asks me to play hide and see.
The most sweetest thing she's done to me is





"I want to sit next to Coconut!" she told her parents.






She gave me a big hug before she was going to bed.
When we arrived at the house, which was in the town center, the other host, Louix, was at home and took care of their twin boys, who are only 2 years old.
Their names are Sylvester and Sebastian, which are not easy to memorize at once.
The only words they are able to say is "no" and "more" which are enough for them to get what they want.
Because the kids needed some afternoon break, so I had mine as well.
My room is upstairs and there is a big French window (落地窗) near the bed.
I can see the big tree just outside the window.
It's like I live on the tree house and I have my own secret place.
I watched the movie "slumdog millionary"(貧民百萬富翁) in front of the French window. It's quiet nice!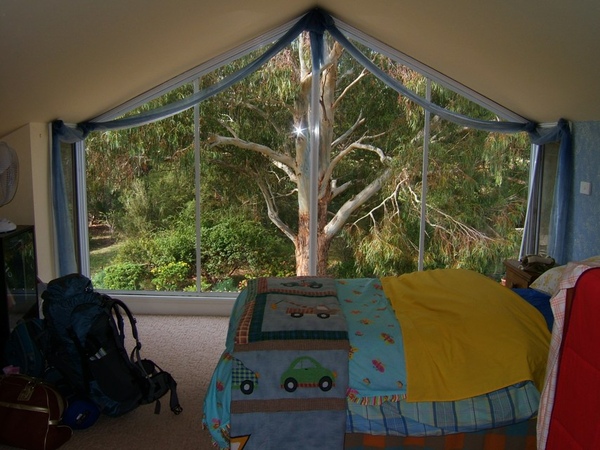 Photo/ guest room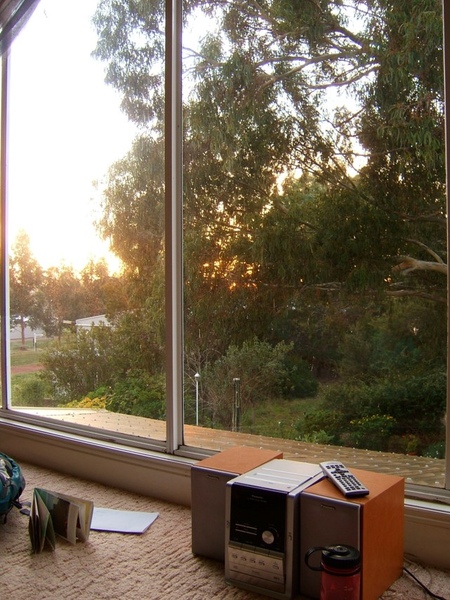 Photo// I can see sunrise through the window
We had dinner around 5PM
The kids usually go to bed at 7:00.
Most of the lights are turned off after that.
I feel so sleepy after 7:30 after taking a shower.
It's too bad for me to live an old woman's life in Australia
My bed time is getting earlier and earlier….