第230天- 遊記- Sydney Day 6- 下雨天之Googee & Sydney Aquarium
Date: 20090308 ( Sun)
Location: Googee & Sydney
Event: It was all about WATER (Raining day, Cliff & Beach, and Aquarium)
I got up at nine in the morning without setting alarm first.
It was nice.
I stay at bed to read Lonely Planet and wondered which beach should I go, Manly, Bondi or Coogee.
Bondi is famous beach in Sydney, as a result, it is always with lots of people and tourists there.
Coogee is in the south of Bondi beach, but with less people there.
Manly is in the north of Sydney Harbour, people have to take ferry there.
I heard it's a quieter beach.
After asking my roommate Natali from German, I decided to take her advice and went to Coogee
She told me to walk from Coogee to Bronte was a nice choice if I don't like crowded.
Thank for Matthew's Pass Ticket, that I could take free transportation.
(當天晚上如果沒寫日記,後來就會很懶得寫了:P)
1. First, I went to Information in The Rocks to ask which bus I should take, and saw The Rock Market.
xyz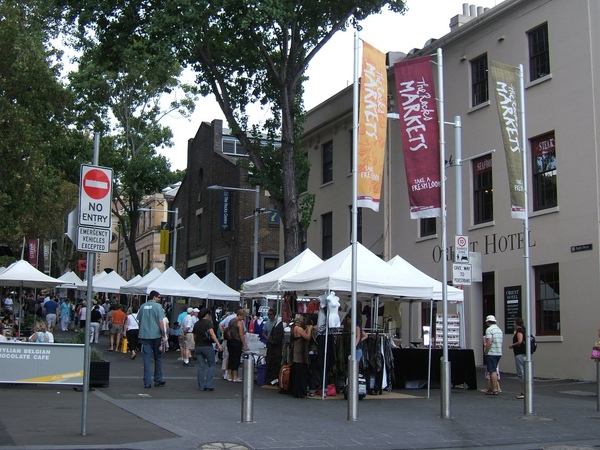 2. Second, I met nice crews in the coffee shop of Coogee.
They talked with me in joyful and sunny voice, and gave my coffee special price of $ 2.7 instead of $ 3 dollars.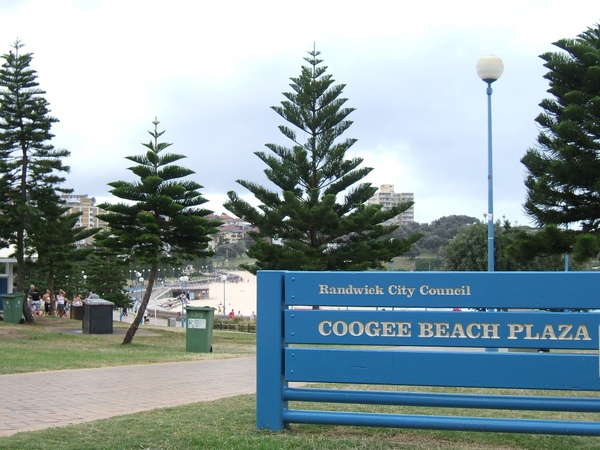 圖/ 這裡是Coogee Beach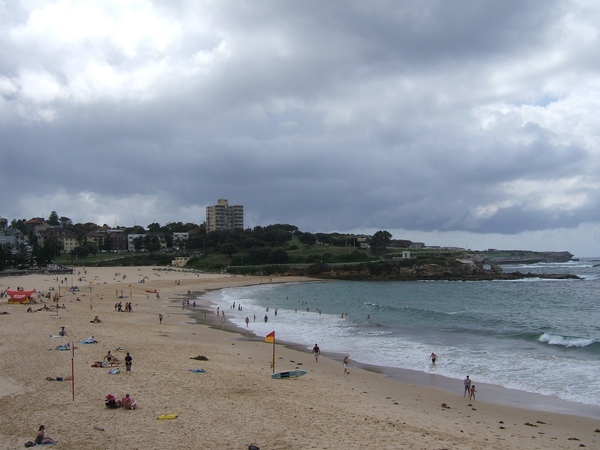 圖/ Coogee Beach
3. Third, I lay on the beach enjoying the cloudy sun-bath, and wrote the postcard to myself.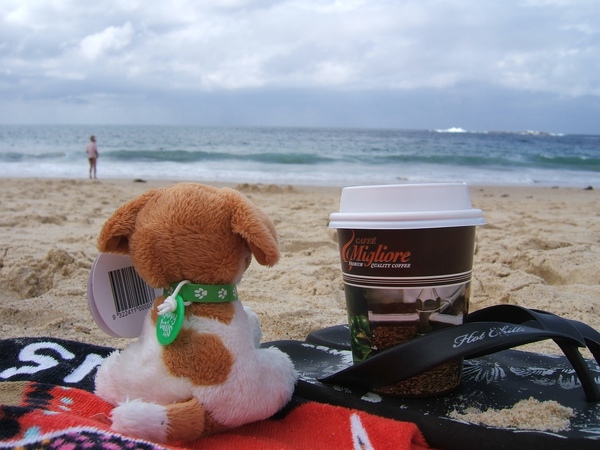 圖/ 阿傻也喝咖啡做日光浴
4. And then, it started to rain, everyone got up and try to shelter from the rain.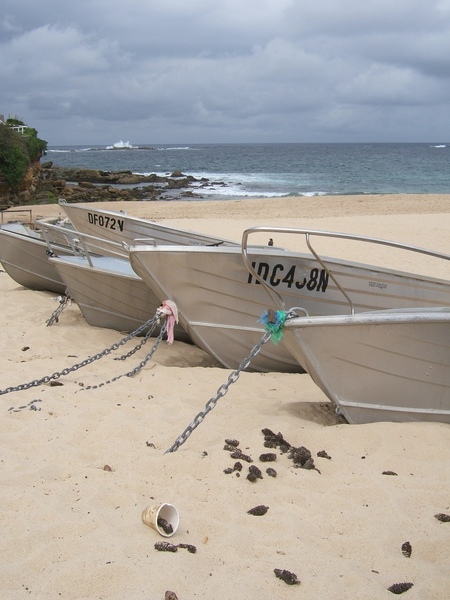 5. After the sudden rain, I kept walking along the beautiful cliffs. Bondi beach was my destination today.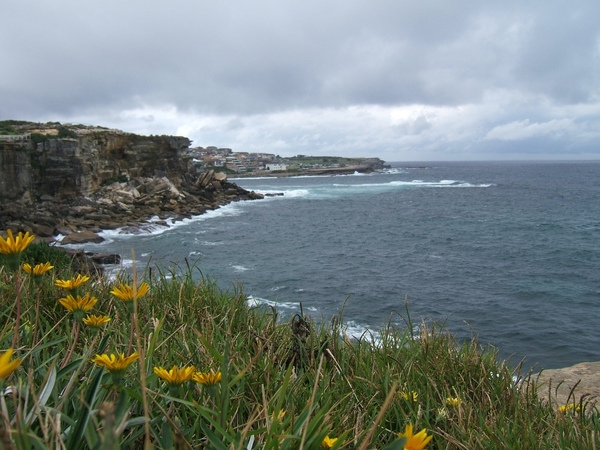 圖/ 如果天氣好 這張應該會很美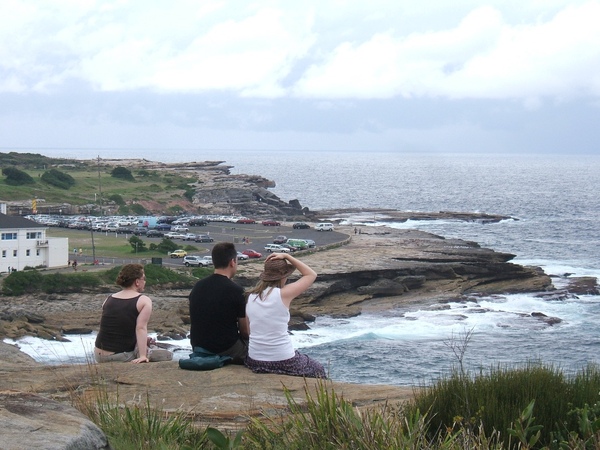 圖/ 我就這樣走到比那個停車場還遠的cliff(懸崖)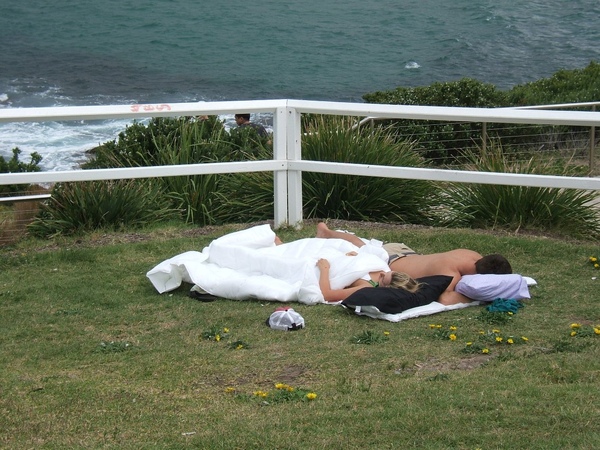 圖/ 這樣也太浪漫了吧~
6. I found a nature swimming pool named "Girl's Bath".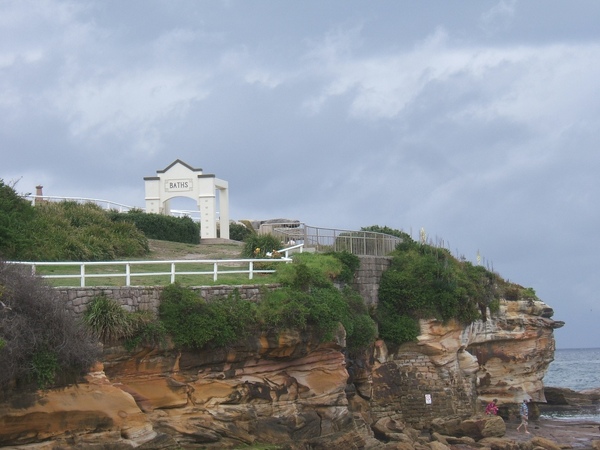 圖/ 從那個大門走下去就到了Bath 那個天然的泳池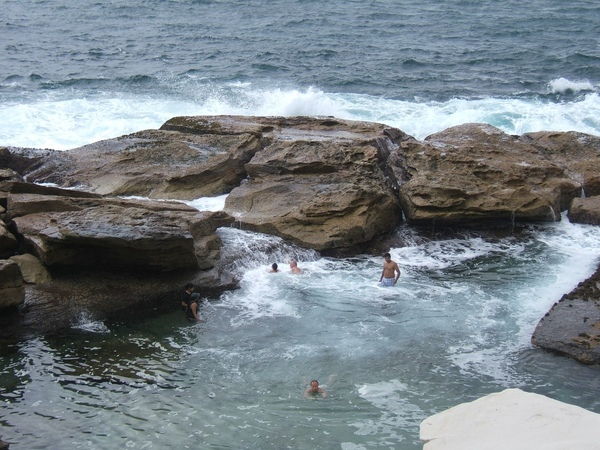 圖/ 超讚的天然spa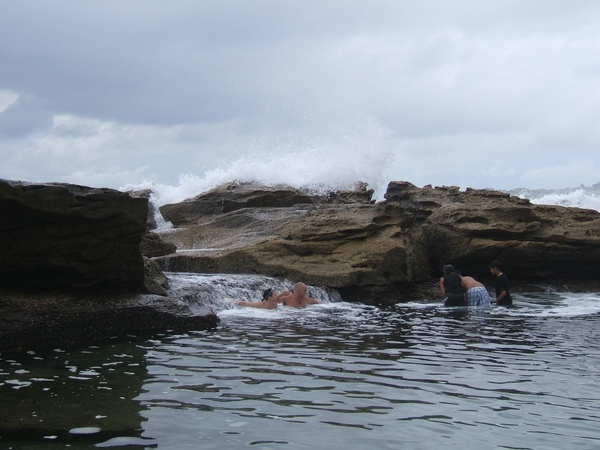 圖/ 浪打超高的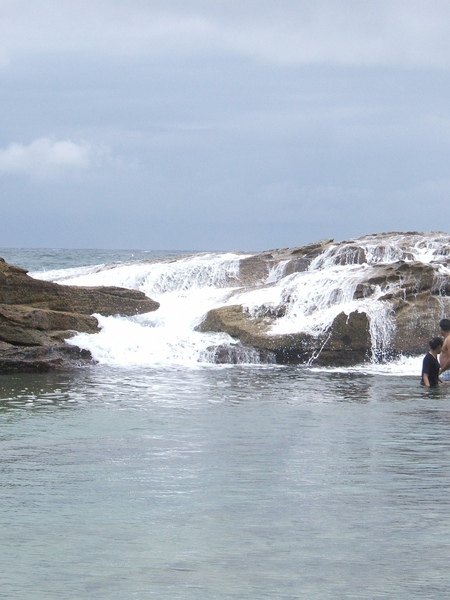 圖/ 泳池不深,長度也很夠,有人在那裡snorkling
7. A heavy rain stopped me from going north, so I stopped at Clovelly Bay and took bus back to Sydney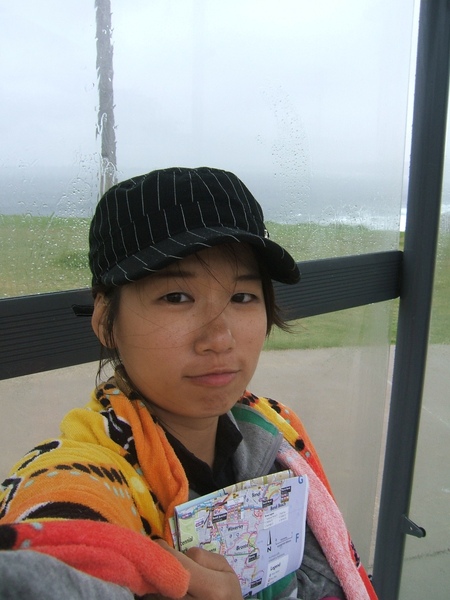 圖/ 我還想繼續往北走~~~
8. Since the rain was not about to stop, I chose "Sydney Aquarium" to be where I spent my evening to.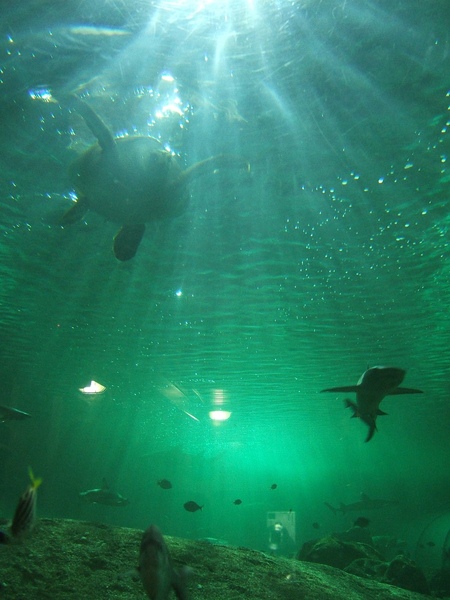 圖/ 我好想跟大海龜合照喔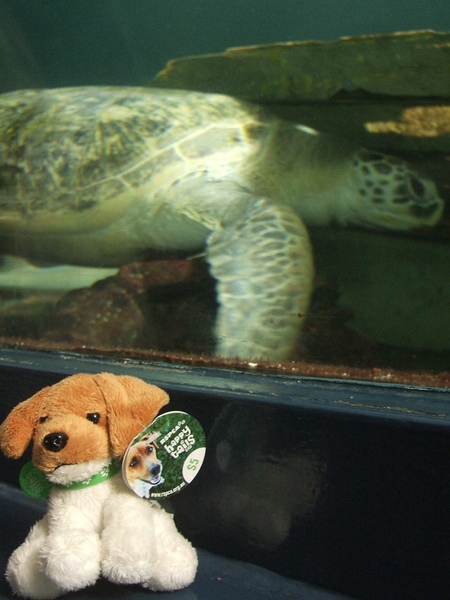 圖/ 請阿傻代勞了。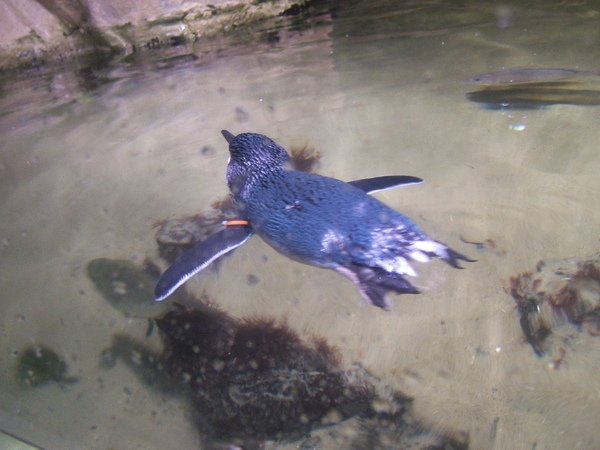 圖/ penguins 超小隻的 很可愛喔。 而且水族館裡有喇叭即時傳送他們的聲音。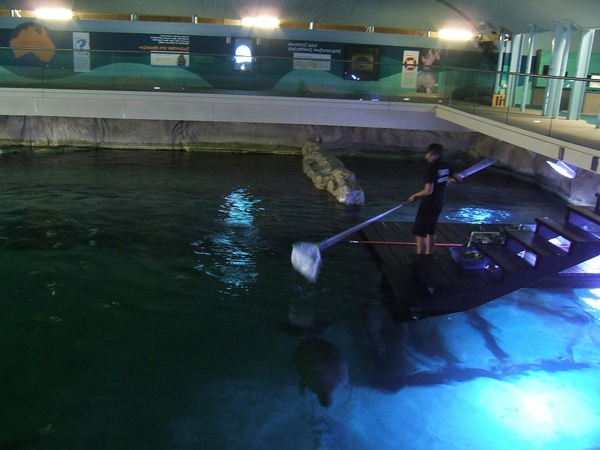 圖/ 工作人員把高麗菜丟到水底,餵有"美人魚"之稱的dugong(海牛)
他們很巨大,可是吃素,每5分鐘要上來呼吸一次,很可愛。
9. I met a nice old crew in the aquarium, he noticed that I was alone, and he volunteered to take photos for me. He said "I know the other side of the tunnel is better to take photos." And it was true since the sharks always gathered there on the top of the tunnel.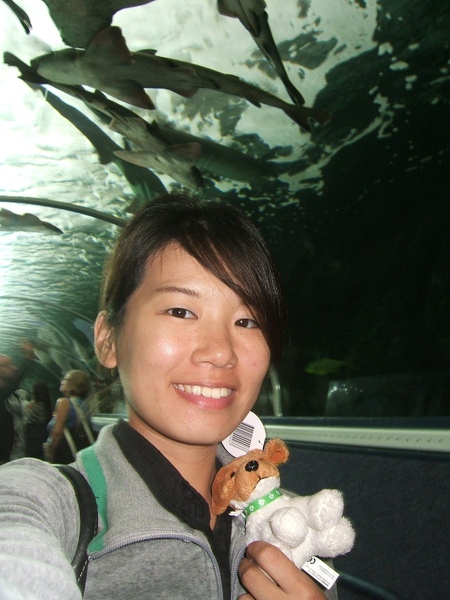 圖/ 很多鯊魚聚集在這裡喔
10. He also gave me a small "Nemo" as a free gift. He was such a nice old man who was a little like the principal in the movie of Harry Porter.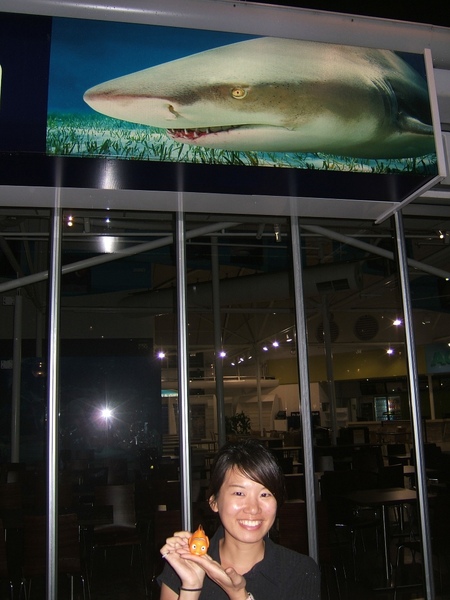 圖/ 那個老人又說要幫我跟招牌拍照囉,手中是他送我的小Nemo
11. When I stared at those fish swimming in front of me, and thought about nothing, a text from Turtle just jumped in. She told me how everyone is recently. And she also said "Everyone is changing but there is one thing that doesn't change: we all miss you."
I miss you, too.