第250天- 和大馬華僑打羽球
Date: 20090328(Sat)
Location: Griffith University, Brisbane
Event: 和大馬人一起打羽球
My ex-sharemate, John, my sharemate, Queenie, and I went to Griffith University and played badminton this evening.
It was John's friends from Malaysia booked the playground of Griffith University in advance, and John asked me to go together.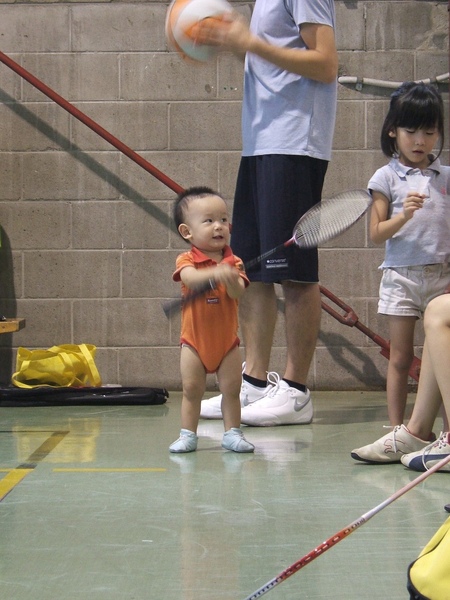 There were nearly 15 people there and we used the playground buy turns.
They were nice people, and we are all at the similar ages.
Two of them are married and brought their 4-year-old daughter and so little cute 1- year-old son there.
They were so good at badminton; it was fun to play with them.
There were 4 people at one competition until one team won the first 15 points.
Queenie and I didn't know the rules at all.
We could only be told and knew when I should serve a ball and where to stand.
After badminton, we ate dinner together.
15 people were in a long table of Sushi Bar at the same time.
The 4-year-old daughter and 1-year-old son were always the women's favorite.
Everyone liked to hold the boy in arms and played with him.
The girl was also a behavior and lovely who always be quiet sitting beside.
One man asked if I want to hold the cute boy, and I said yes.
He put the boy to me directly without any hesitation.
I held the boy carefully and the boy just lay in my arms.
However, everyone laughed because the boy expressed like "who is this stranger?"
You know, I always love babies but I haven't hold one for a long time, maybe 7 years.xyz

I smelled the milk, I tough the delicate skin and I try to intrigue his attention.
Looked at little baby, looked at those good friends getting together, it reminded me my friends.
Maybe one day, we will all get together and played with Matilda Li's babies.
Men were talking non-sense and sometimes burst into laugh loudly and suddenly.
Women were talking about how to breed children and take care of whole family.
And all of a sudden, the topic would change to Why it was Matilda Li to get married and had kids second? More surprising thing was Why it was 幹哥 to have his family first? And Why it was Coconut who hasn't got married since she is already 35.